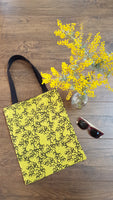 Strawberry Field Bags are designed and created by KellyChang, the daughter of two tailors. Every stitch is sewn with passion and incredible attention to detail.
Kelly grew up observing her parents work in their busyTaipei business though didn't formally learn to sew until she settled inAustralia in 2004.
Kelly is passionate about Australian botanical art.  Making bags with Australian designed fabricsis her biggest joy and she's found a large community of likeminded people!  She also loves supporting fabric designers sofor every metre of fabric purchased, the artist earns a 15% commission. 
"They're the true heroes of Strawberry Field Bags!" Kellysays, "I'm just the craftswoman who turns their beautiful artwork into wearableproducts". 
Her home studio in the NSW Snowy Mountains region issurrounded by beautiful bush and rivers. Her biggest inspirations are the native animals, birds and plants, whichencouraged her family to purchase a 25-acre property a year ago.  Surrounded by natural woodland, they'redetermined to improve the land where they can and provide water and shelter forlocal wildlife. 
Kelly insists the bags be more than just beautiful to look at.Being a mother of two, she recognised the need for her products to be strong,practical with lots of storage, machine washable and environmentally friendly.They produce minimum waste during production and 98% of the material is naturaland vegan friendly.
"I always say to my customers that my products are not justbags," Kelly points out, "they have personalities and really represent who youare".
Custom content
Wholesale Enquiry
Please email to: kelly.chang@y7mail.com